When I decided to be a SAHM, I made a very conscious decision to be very hands-on with my children's growing up needs. I admit, too often, the fear of "losing out" does grip me. My children doesn't attend any formal playgroups, reading programmes or get their left or right brains trained.
Well, shouldn't I know better? After reading so many Montessori books, practising their philosophies at home, having once taught preschool children in private institutions & a Kindergarten teaching course at British Council, I should know better.
Mess-free finger painting using ziploc bag & paint
Maybe, the problem with living in a fast-paced, results-oriented cosmopolitan city like Singapore, many of us want to see results & see it fast.
Does doing Montessori make my children smarter? Well, honestly, the straight forward answer is no, it doesn't.
Can Bubs write yet? No.
Can he read off sight words? No. Common words? No. Using phonics? No.
As for Baby E? His developmental milestones are usually one month slower than his peers as he's born pre-term.
Bubs requested his art piece be transparent. So we didn't put drawing paper inside.
So, what's the big deal about Montessori?
I'm no purist. I try as best as I can to implement her teachings into our everyday lives. Bubs doesn't even attend a Montessori school.
I discovered their sensitivity to surroundings, ability to concentrate, the way they learn through doing & repetition, their empathy towards others, a sense of order in children & how order calms them.
Of course, not everything has to be 'Montessori'.
Lots of early childhood pedagogy actually has Montessori elements in them. Perhaps, many parents are already doing Montessori without even realising.
It can be as simple as bringing children outdoors & let them play.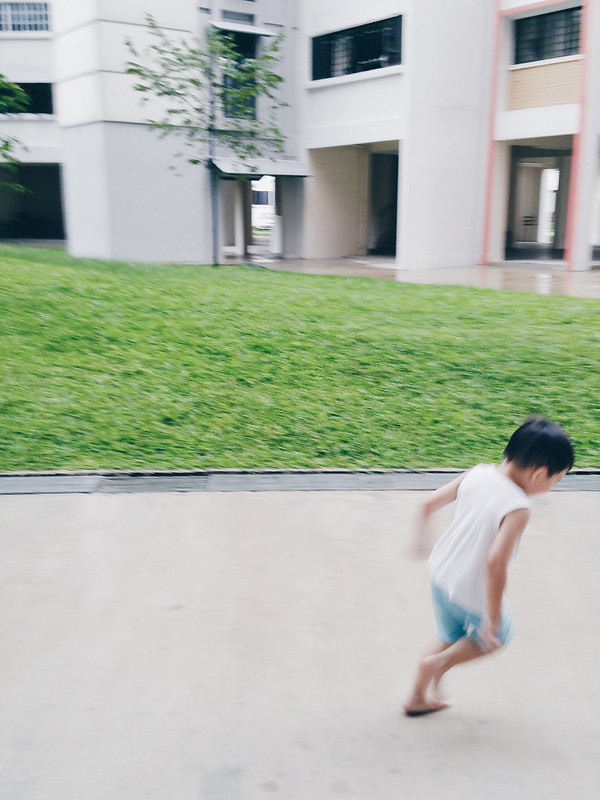 Let them run wild. If the environment is safe, I let him go barefoot. Cos he insisted.
"The concrete floor is cold!" So squealed Bubs as he got his feet wet after the rain & made footprint tracks in the sheltered dry concrete.
Dirty feet, happy feet.
Jumping onto dry concrete to make footprints
Let them observe the surroundings. Today, we sat on the bench & watched this postwoman deliver letters into the letterboxes. I think she kinda felt uneasy with 3 pairs of eyes (Bubs, Baby E & myself) on her.
That night, Bubs 'delivered' random pieces of papers all over the house.
We read a book about animal tracks during bedtime & talked about how he made wet footprints earlier in the day.
Bubs found a feather & took it home. A new addition to our nature display.
Personally, I find that Montessori isn't that complicated. In fact, I love it that her teachings still holds strong after she first opened her first school Casa dei Bambini in 1907. That's almost a century ago!
Most importantly, Montessori keeps me sane as a SAHM. That's something I never expected! I'm always learning & re-learning a lot of concepts everyday. It taught me the power of observation, how to observe a child & how to trust in their ability, their potential to be independent little people.
Let the children be free; encourage them; let them run outside when it is raining; let them remove their shoes when they find a puddle of water; and when the grass of the meadows is wet with dew, let them run on it and trample it with their bare feet; let them rest peacefully when a tree invites them to sleep beneath its shade; let them shout and laugh when the sun wakes them in the morning.
Xoxo,
Jingyi